How to Choose Your Chain Length (See Bottom of page for Chain Types):
First you decide where you would like the necklace to sit – on your collar bone, or maybe on your upper chest. Perhaps you like it to sit loosely on your lower chest… Second, take a string and measure the total necklace length you would like. If you do not have a string or rope you can use the picture below.

Keep in mind that the chain lengths mentioned at the website do not include the pendant.
The size of the pendant varies in accordance with the name and style you choose. The average pendant size is 0.75" – 2" (2 – 5 cm).

So the total length of necklace would be the length of the name pendant and the chain you have chosen. The standard length of chain that we would normally supply is 16" (40cm).

For example, if you order a name necklace with a 16" (40cm)chain, the total length of the necklace would be 16.75" – 18" (42.5 - 46cm), depending on the name and style you ordered.



The chain lengths in the picture below do not include the pendant!

Chain Types:
Chains are worn by both men and women and are always in fashion. They are available in hundreds of styles, thicknesses, and types. Chains can be short to be worn as bracelets, longer choker length necklaces and longer still to be worn with your favorite locket or pendant. They are very versatile pieces of jewellery as they can be worn alone, with several other chains or with charms or pendants. Many of these styles are made in modern factories in Italy with traditions deeply rooted in the history of Italy. This brief guide discusses some of the more popular styles of chains.
Please note: Not all of these styles are available through our online store.
Twist chain - resembles a twisted herringbone wherein each link is composed of a series of flat, diamond-cut, interwoven loops.

Ball chain is a chain characterised by small round silver balls, which form a continuous strand of beaded chain. Elongated spaces are sometimes added, as well as bar-shaped beads to offer a more glamorous appearance. They are available in single and multi-row formats.

Box chain is a continuous linking of interconnected six-sided, three-dimensional, miniature boxes. It is a strong and sturdy chain that holds pendants and heavier charms well.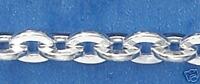 Cable chain owes its name to the heavy and industrial type of cable chain which is typically used to hoist anchors on large freighters. The cable chains are generally more 3-dimensional than the flatter curb links. It is comprised of oval interlocking links with alternating links turned 180°. This chain comes in a range of widths with the smaller ones generally more favored by females.

Figaro chain is a combination of three curb links followed by an oval cable link and has a repeating pattern. This is definitely a masculine chain in the larger and heavier varieties. The smaller and lighter variations are a nice choice for any chain wearer and not merely the exclusive choice of men.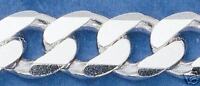 Curb chain is a popular choice for men because it uses a heavier and larger link. It is a simple design of flat, interlocking, similar links. Historically, the links were made rather large due to the fact that they were made with little machinery and were time consuming to make. However, with the advent of modern machinery, smaller and more feminine styles are now available.

Liquid Silver chain is a style of sterling silver chain or necklace which is formed by the addition of tiny cylindrical silver beads and strung on chain, cord or wire. These beads move minimally along the strand and produce a shimmering effect, similar to water flowing, giving rise to the term liquid silver.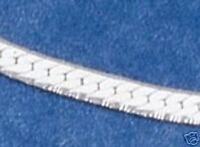 Herringbone chain is one of the more widely popular styles of chains. As the chain is meant to lay flat, no charms or pendants should be hung from this style of chain. Usually available in lengths from 7" women's bracelet through 30" chains.

Marina chain has interlocking oval links whose width is bisected by a bar.
Omega chain is fashioned after the design of a bird's feather with its straight "backbone" and evenly spaced rectangular "links" emanating from the spine area. Flexible, highly polished, and generally worn relatively close to the collarbone, the Omega is the perfect choice to exhibit any showcase piece of jewelry worn on the neck.

The rope chain is made of twisted and braided fibers. Known for its strength, integrity, classic pattern, and simplicity, the rope family of chains is very popular.